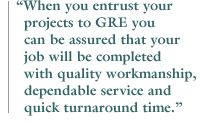 GRE is a high-quality fulfillment and contract packaging company and part of an organization with over 100 years of packaging and distribution experience. GRE provides a variety of low cost, flexible business support services. Located in Buffalo, New York, GRE is within 500 miles of 55% of the total US population and 62% of the total Canadian population. Our expandable 80,000 square foot warehouse and manufacturing facility can handle almost any company's warehousing, mailing, order processing and contract packaging needs.
GRE provides quick project turnaround and assures daily shipping commitments with our:
| | |
| --- | --- |
| | Truck-height and grade-level shipping docks |
| | Organized manufacturing space |
| | Ample, secure warehouse space |
| | Trained and dedicated staff |
| | Multiple staging areas |
| | Fully integrated web-based systems with customer online access |

At GRE, our experienced and knowledgeable staff can tackle the most demanding, tedious and complex assignments--easing your workload, controlling costs and simplifying your shipping challenges. By using GRE for packaging and fulfillment programs, your company can focus on what it does best, "manufacturing and selling your products and services." We pride ourselves on achieving the highest quality levels on the most complex projects.


Email Us Now- - - - - - - - - - - - - - - - - - - - - - - - - - - - - - - - - - - - - - - - - - - - - - - - - - - - - - - - - - - - - - - - - - - - - - - - - - - - - - - - - - - - - - - - - - - - - - - - -